Virtually ELIMINATING Odors & Bacteria:

CritterZone at Work and School
Removing Urine and "Accidents"
CritterCritic Pet Blog
PetPins | CZ Pinterest Posts
PetProductNews.com:
CritterZone named TOP PICK at Global Pet Expo 2013
About.com:
4.5 STARS for CritterZone! "...it's a great weapon for keeping things under control. ...I love the fact that it's so portable. I plan to use it for other smells..."
GoPetFriendly.com:
Traveling with Pets? Check out their blog about CritterZone "it may be small, but it PACKS A PUNCH!"
HausPanther.com:
CritterZone is "a new player in the fight against pet odors. GAME CHANGING.."
Click to see CritterZone Air Naturalizer Units!

Tiniest Tigers:
"...once in nine lives a product comes along that just blows your whiskers back and that product is the CritterZone..."
New York Times:
States that another air purifier, nor his cat, proved no match for the CritterZone. "... After the CritterZone had been humming away near the litter box for an hour, the stink vanished... ..for all we knew, the cat no longer found it biologically necessary to void."
Click to take your CritterZone on the road!
BE SURE to download our User Guide for Instructions, Safety & Cleaning Directions
Cleaning your CritterZone unit is simple and important to keep it operating efficiently. Please take a moment to watch this video and/or download the printable version.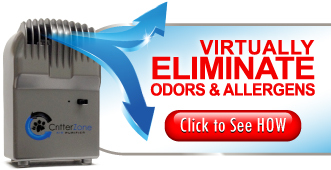 No filters! Filters are an annoying pain and are expensive. Virtually eliminate air pollutants by destroying them, rather than collecting them.
No chemicals! Cleaning the air without chemicals is environmentally smart and much better than covering odors with sprays. CritterZone is a safe, powerful, effective way to clean up the air.
Inspired by nature. Outdoor air uses the sun's energy to clean itself. Indoor air is cut off from that cycle. CritterZone re-energizes indoor air so it can break down the stuff you want to get rid of.